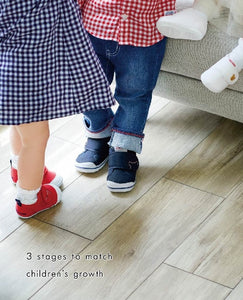 Why Miki House Shoes?
The growth of a child's feet is closely linked to their health and development.
For more than 30 years, Miki House has been involved in crafting products that support this growth process. Miki House spends time making sure all of our designs meet the special needs for children's footwear before even getting started.
Are the shoes shaped to match the spread of a baby's toes when walking?
Is there enough room for a baby's toes?
Do the tips bend so that babies don't trip and fall?
Do the shoes flex to match the bending of a baby's foot?
Miki House offers a wide variety of shoes to match your child's development, whether they are just taking their first steps, walking steadily, running hard, or even taking big jumps.
Miki House Shoes:
Pre Shoes - for indoor use before your baby starts to walk (11 cm - 12.5 cm)
1st Step Shoes - for when baby is starting to learn to walk (11.5 - 13.5 cm)
2nd Step Shoes - for when baby is walking steady, running, or jumping (13 cm - 15 cm)
Kid's Shoes - for kids from size 15 or 16 cm
Please contact our staff for further assistance.
---